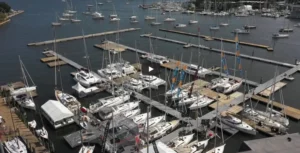 Meet ElectroMaax in Annapolis from Oct 10th- 14th at booth YB6 where we will be displaying some of our existing and new high performance marine products. This year marks the 50th Anniversary of this internationally acclaimed sailboat show, recognized as the world's largest and most prestigious sailboat show.
For more information about the show, including a full list of exhibitors and the complete show guide, click here.
Visit Us At Booth YB6
Stop by our booth where our newly launched, upgradeable E-MAAX CSR and PRO Smart External regulators will be on display as well as the all new E-MAAX PLUS!
All our new E-MAAX smart, external regulators are software based and are fully upgradeable.  This allows you to purchase the model with the features you need today and get the added value and capability of upgrading any time in the future to suit your needs.
By combining our alternators with our E-MAAX regulators and our optional peripherals, including sensors and communication modules, you can achieve the most robust, comprehensive and reliable marine electrical charging system on the market today.
Product Performance
Curious how the E-MAAX performs?  Checkout our all new User System Interface (USI) which allows you to monitor up to 15 different parameters and multiple alarm conditions displayed on any standard PC, laptop or tablet!  Click here to learn more. 
Did someone say Lithium!
We did, and we are launching our very own Advanced Technology LiFePO4 Marine Battery! Offering the latest nano cell technology, an integrated Battery Management System (BMS), Bluetooth wireless connectivity, and reliable – long lasting, zero maintenance ownership experience we're sure will have everyone saying Lithium!
Click here to view all the features and benefits of our new LiFePO4 batteries.
Want to eliminate the hassle and expense of a generator?
Ask us how to turn your propulsion engine into high output and highly reliable generator to power all your electrical devices and appliances and keep you batteries topped up.
Our GenMAAX alternator line is designed for the serious or blue-water cruiser and produces continuous power output, which is sufficient enough to simultaneously charge your batteries and power on board conveniences at idle – and for a very long time without suffering any degrade.
As part of your existing systems this means no additional systems need to be maintained, and it provides faster charging while saving you space, weight and the capital cost that other energy making devices (e.g. solar/wind/portable generators) don't.
Our GenMAAX alternators are a simple bolt-on replacement that's tough to beat!
So stop by our booth at the 2019 Annapolis Sailboat Show and say hello ElectroMaax!
We're looking forward to seeing some new and familiar faces and are excited about being a part of this years' 50th Anniversary show!