This is a run down of an install of an Electromaax 140 amp alternator, with their 1 inch belt kit and Sterling external regulator. I bought it from them as one of their cruisers packages, and so saved a few dollars on the individual component purchase price.
The new pulleys went on quite easy; the crankshaft pulley fits right over the original. The fresh water pump pulley replaces the original, only 4 bolts. The alternator had the new pulley installed at the factory. The pulleys are nicely machined aluminum and black anodized. Electromaax supplied everything except the wrenches.
I moved my orange hot air exhaust pipe and coolant reservoir to allow room for the Sterling external regulator.
Before and after shots below
Before

After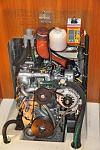 Electromaax labels all the wires on the alternator and regulator for easy hook up. There is also a Yanmar connector installed in the harness, and it includes the temperature sensors for the alternator and battery.
I changed the alternator output wire to a #2 and ran it direct to the house bank (through a Bluesea 160 Amp fuse) and added a #2 ground wire from the alternator frame to the battery ground (after the shunt for the Victron battery monitor).