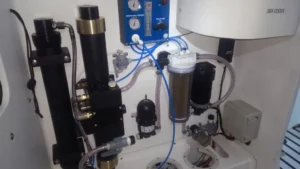 Here's the account of our very first, new for 2021, SolarMaax 10 Watermaker System installed by none other than David Smith, founding partner in Spectra Watermakers:
It's finished, and just in time! The first of its kind, the SolarMaax 10 is now running.
Using the Enhanced Clark Pump, it's making over 10 gallons of drinking water from sea water on 10 amps of 12 volt DC straight from the batteries!
The boat, "Lucky Duck", is a 46 foot carbon fiber thoroughbred race horse of a sailboat is heading out under the Golden Gate Bridge for the Spinaker Cup race in the morning. Everything on Lucky Duck is full on race, the SolarMaax 10 fits right in. I had taken off a Katadyn Power Survivor 40 system the previous owner had installed to upgrade to the new SolarMaax 10 system; an upgrade that went from 1.5 gallons per hour using 4 amps of energy to over 10 gallons per hour using only 10 amps of energy.  For offshore racing with crew, this is a big difference!
The new owner was familiar with the Clark Pump. His last boat, a Santa Cruz 52, had a Spectra 200 installed. I'm familiar with the Clark Pump because I worked with Clark Permar to develop the first energy recovery pump we eventually called the Clark Pump when I was a founding partner in Spectra Watermakers Inc. More about David Smith and the history of the Clark Pump
The Enhanced Clark Pump shifts quieter and can operate at higher pressure and feed flow rates than the original allowing the SolarMaax 10 better efficiency, a wider operating range and more reliability. The owner of Lucky Duck knew of my background and was happy to have me install the new SolarMaax 10 even though it was the first one to be used in the marine industry.
I wish them the best of luck in their racing campaigns in the years to come.